TABLE 205
---
Shown here as a dining height 1.1m square configuration with solid brass legs and a Corian table top. Contact studio for details. Available in other materials and sizes.
Design | Jenny Jones & Paul Raeside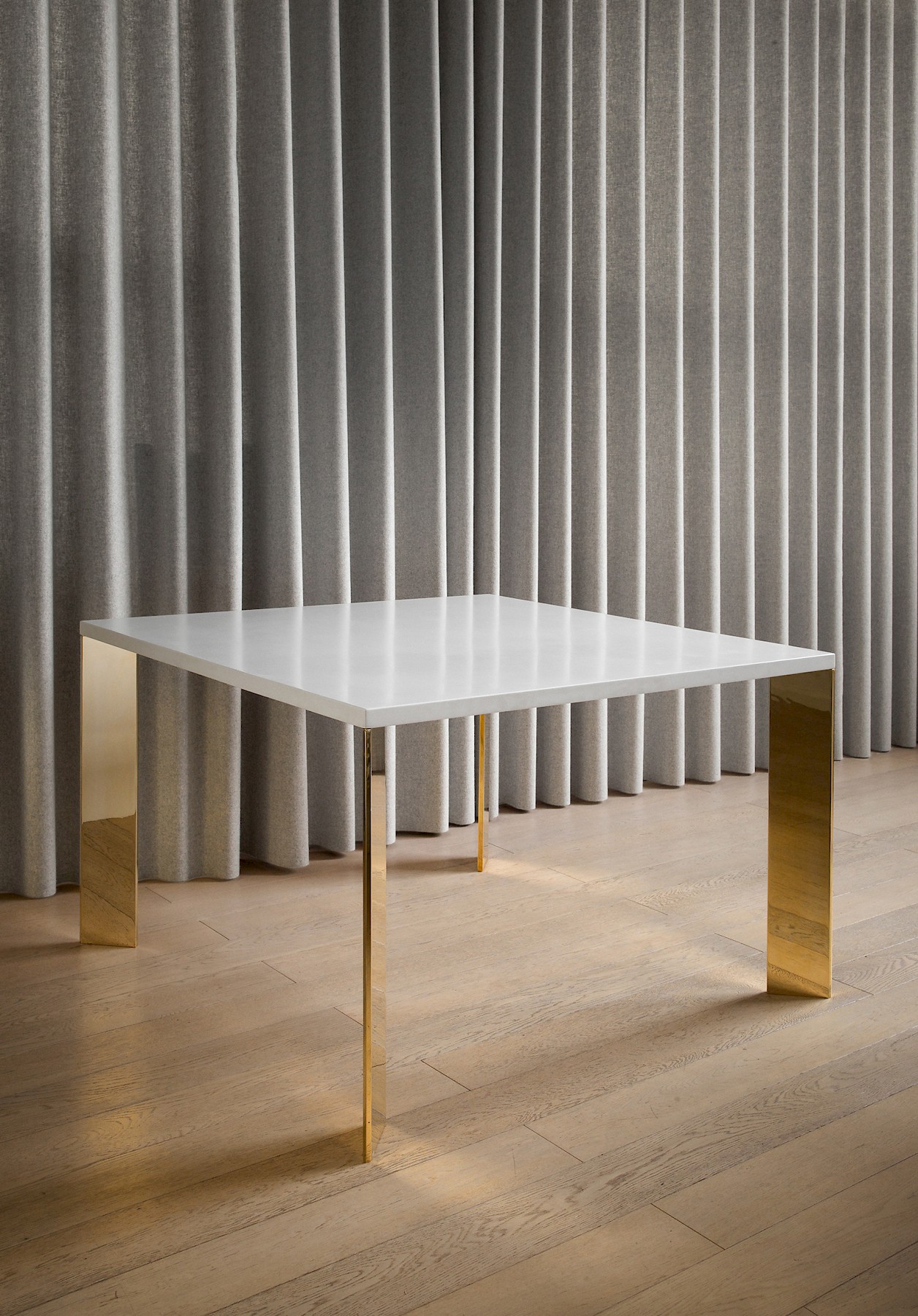 RE WORK IT FOR THE ART ROOM
Client | Fair & Co for the Art Room
Program | Rework BA2 Chair, Race Furniture
Location | Selfridges
---
Re-working of Ernest Race Classic

We love the work of The Art Room and were delighted to support them by being involved in this project.
Along with 100 other transformations of the Ernest Race BA2 Chair, our interpretation, Triple A Rating, will be hung in the Selfridges Atrium from the 6th May until early June as part of the Work It Festival.
The project, which brings together talents from the worlds of art and architecture to film and fashion, including Ronan & Erwan Bouroullec, Jenny Van Sommers, David Chipperfield, Richard Wentworth and Cara Delevigne will then be available to purchase at auction on 9th June 2015 to benefit The Art Room children's charity.
Triple A Rating explores ideas of energy and work; by constructing the seating surface out of batteries, the transferrable nature of energy, contained within the batteries, is wittily translated as a source of rest and recharge.
The re-use of batteries was inspired by Ernest Race's own re-use of wartime aluminium for the frames of the BA2 chair in 1945.
Team | Jenny Jones, Leon Kacinari, Brooke Belldon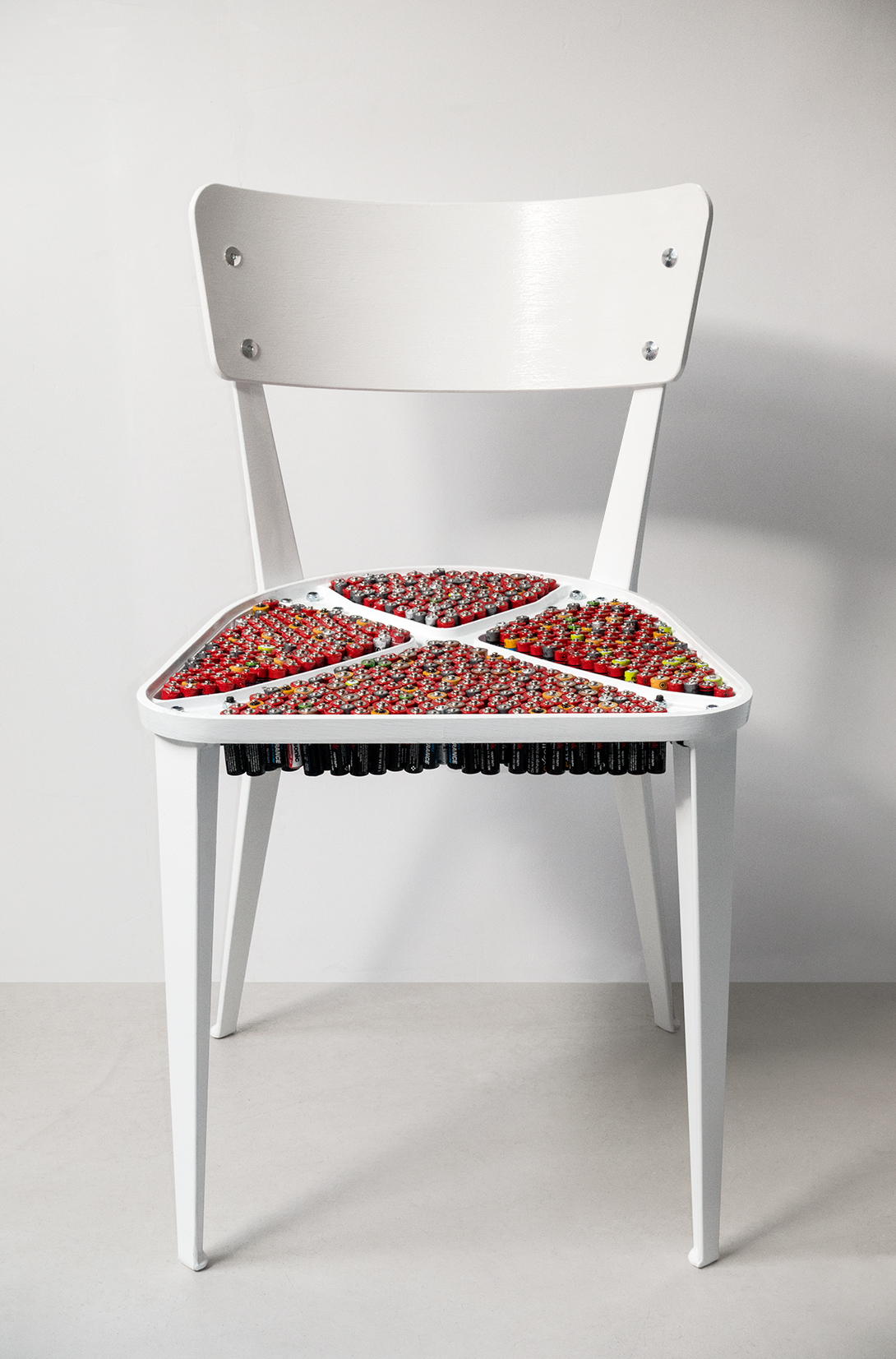 MEMORY TILE
Client | Tank Creative Agency Collaboration
Program | Tile Research & Development
---
Memories of mirror palace rooms in Tehran mediated into ceramic, geometry and glaze. Studio Jenny Jones undertook the geometric and technical development of Tank's brief, supporting Tank during material and product development. To be launched in 2015.
Team | Masoud Golsorkhi, Faye Young, Jenny Jones, Jayoon Yoon, Vitarat Pariyawatakul
Fabrication | Teamwork Italy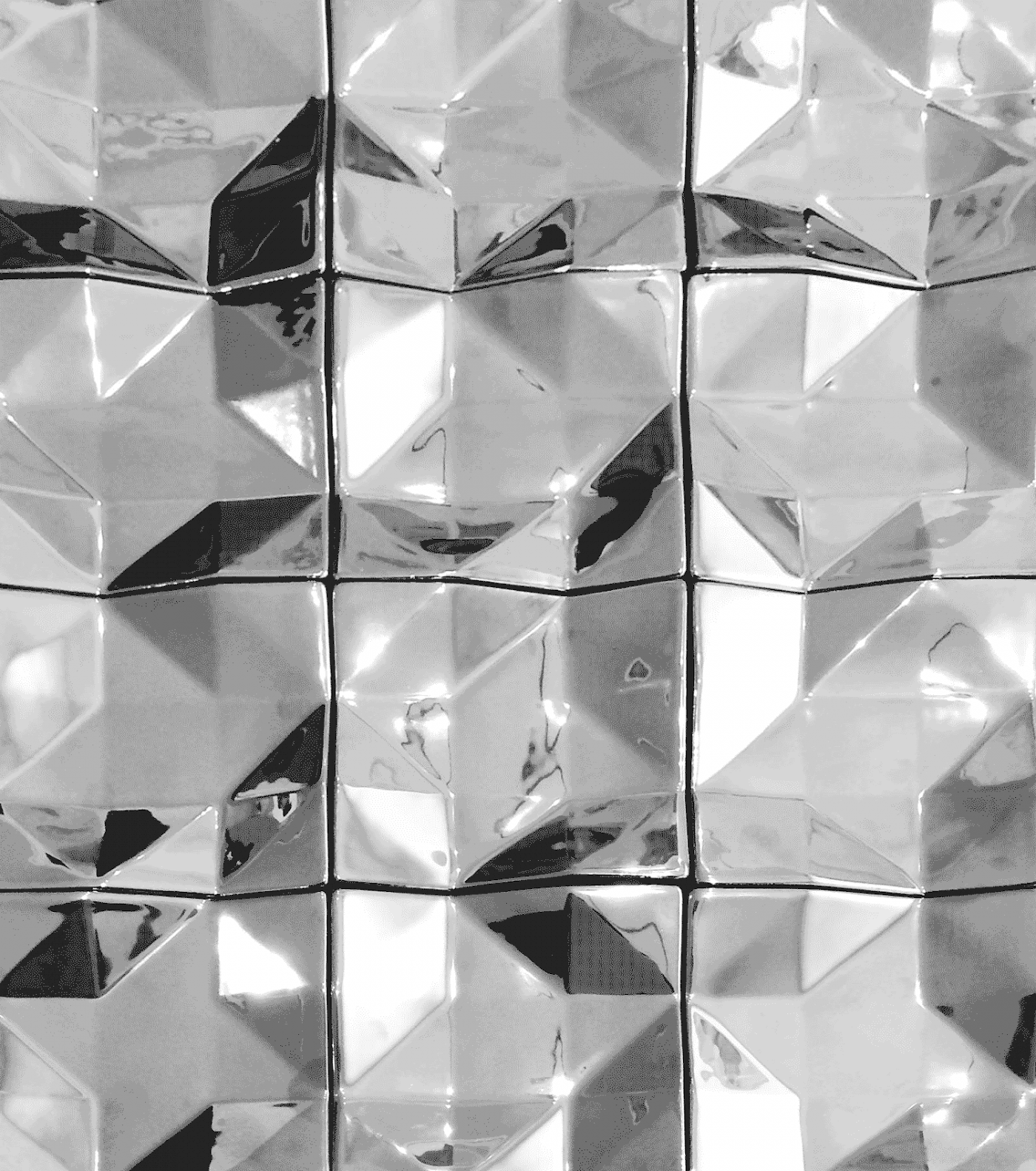 MACROLON POP UP
Client | Full Circle
Program | Concept Merchandising Pop Up
---
We were briefed to design a conceptual merchandise unit for Full Circle to be displayed in Mission Gallery, London.
By taking a generic retail gondola type volume ( 2m x 1.4m x 1m) and removing tubular sections ( reference full circle!! ) the resultant form was then unfolded to create a cutting pattern ( like clothes!). Using Macrolon ( because of it's bending properties) sheet material the CNC cut pattern was ( because of it's bending properties) then erected and fastened with cable ties. A conceptual dressing area was laminated with two way mirror and the piece was filled with dry ice; literally smoke and mirrors!
Jenny Jones, Jens Hommert, Max Dewdney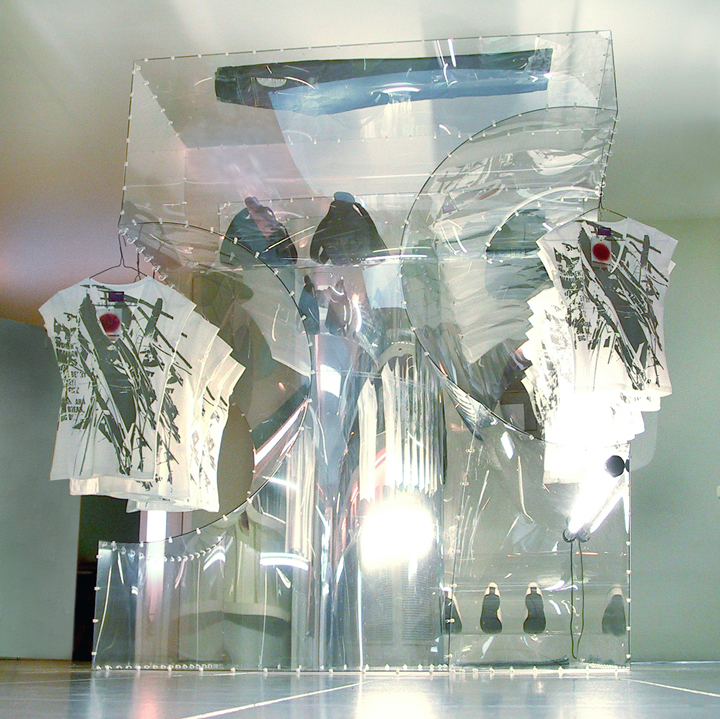 RAINBOW RING
Product | Finger Ring
Fabrication | E2
---
Whilst investigating the possibilities of anodising titanium, inspired by our love of holographic film, we have been commissioned to develope a production jewellery piece. 
FRANQUEENSENSE LENS SCREEN
Client | United Arrows
Program | 200m2 flagship store new concept
Location | Aoyama, Tokyo

Interior Design | Universal Design Studio / Tanseisha
Jenny Jones | Project Lead
---
This was the first flagship store for United Arrow's new brand, Franqueensense in Aoyama, Tokyo.
The concept articulates the brand attitude of 'approachable luxury'; as two distinct environments holding two complimentary collections: 'Precious' and 'Easy'. These two atmospheres intertwine to create one store.
The 'Precious' environment is defined by a floating screen of circular lenses: a mediated interpretation of the chandelier. The screen sparkles, refracts lights and plays with views of the merchandise, the customers and Aoyama street scenes. The material palette is overtly one of 'quality': brass, soft carpets in dusky pink hues, copper and carrerra marble.
The screen has become a strong and recognisable identity holder for the Franqueensense brand.
The 'Easy' environment surrounds the screen. There is a deliberate reduced material palette to play off those of the Precious area.
Team | David Card, Jonathan Clarke, Dan Higgot, Andrew Friend, Jenny Jones (Associate-in-charge), Richard McConkey, Juri Nishi, Mia Nygren, Celia Richardson, Nick Rolls, Sonia Tomic, Claire Wilmott
Lighting concept | Gary Campbell DPA
Project management | Nanno Junji of Hip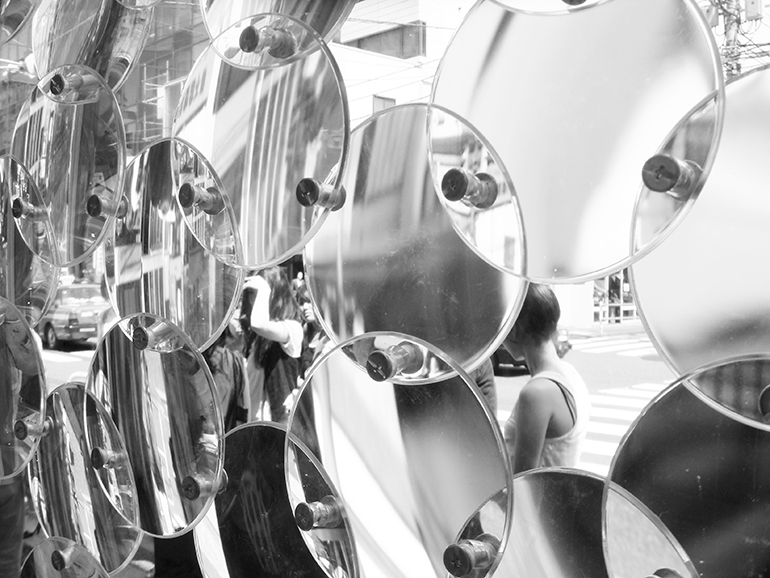 DAIRY ART CENTRE BASIN MIRROR & SHELF
Founders | Frank Cohen & Nicolai Frahm
Program | 1885m2 Temporary Arts Centre | refurbishment of disused 1960's Dairy Depot
Location | London Central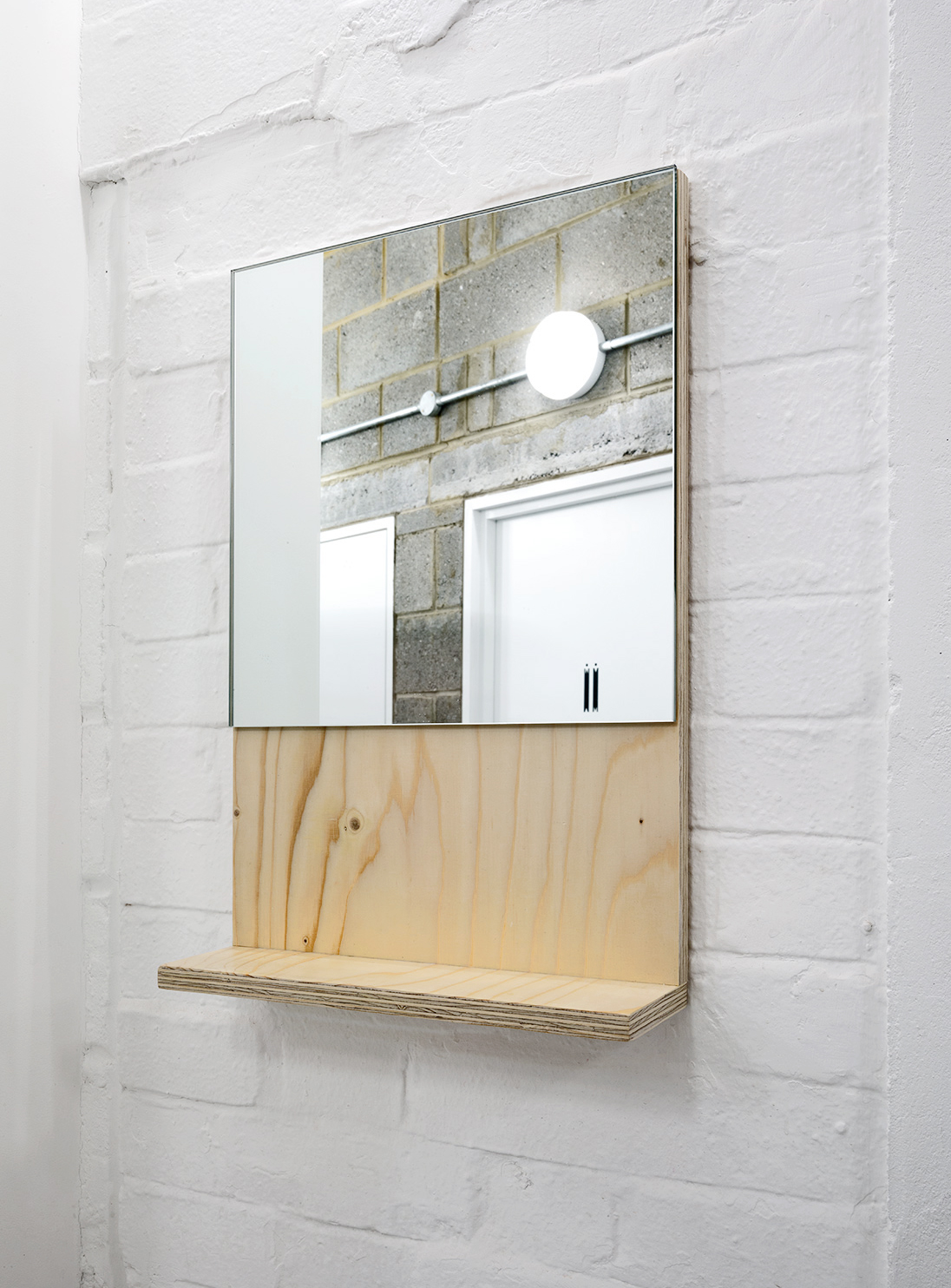 Return to top